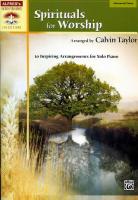 A collection of essential selections appropriate for both private and corporate worship.
Deep River • Every Time I Feel the Spirit • Go Down, Moses • Hold On • Swing Low, Sweet Chariot • Talk About a Child • This Little Light of Mine • Wade in the Water • Wayfarin' Stranger • Were You There 
48 pages
Truly artistic, fully developed piano solo arrangements are included in this incredible collection of spirituals, arranged by Dr. Calvin Taylor.
Dr. Taylor's awesome understanding and talent comes through in every composition. Sometimes riveting, consistently inspiring, there are surprises and revelations at every turn. If you love spirituals, and know how important they are to our heritage, you must have this collection and share it with your congregation.
— J. W. Pepper