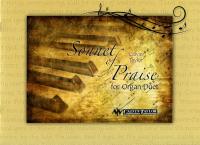 Commissioned by Michael Barone, host and producer of Pipedreams, and premiered during the 49th National Convention of the American Guild of Organists.
Sonnet of Praise is a neo-Baroque composition based on the American folk hymn "Nettleton," most often sung as Come, Thou Fount of Every Blessing. Sonnet of Praise is playable in several configurations. Not only can it be performed by two players at separate consoles; it can also be played at one console with multiple manuals. It is playable as an organ and piano duet, as well as a duet for organ and electronic keyboard. The pedal and bass line part could be doubled by 'cello. The possibilities are numerous.

Sonnet of Praise for organ/keyboard duet received its world premier on June 25, 2008 in Eden Prairie, Minnesota at Wooddale Church, home of the great 114-rank Visser-Rowland organ. The organists were Michael Barone and Calvin Taylor.
12 pages - Two copies